Thanks for your interest in our food! Take a look at our current offering below then click here to order. Our delivery radius is currently 3 miles from the restaurant. You'll find all our online ordering FAQs here. Prices shown are for takeaway.
We have some great deals available on our order page so be sure to take a look.
Key: gf – gluten free; v – vegetarian; ve – vegan
Food Allergies
If you have a food allergy, please use the notes on the order form and call us at the restaurant on 0113 268 1110 to let us know.
NACHOS
Just put the following items together at home to enjoy your nachos. A great dish to share (gf)(v). 5
pot of creamy house cheese sauce
pot of pico de gallo and jalapenos
pot of sour cream
pot of fresh avocado salsa
A box of our handcut corn tortilla chips
Allergen: milk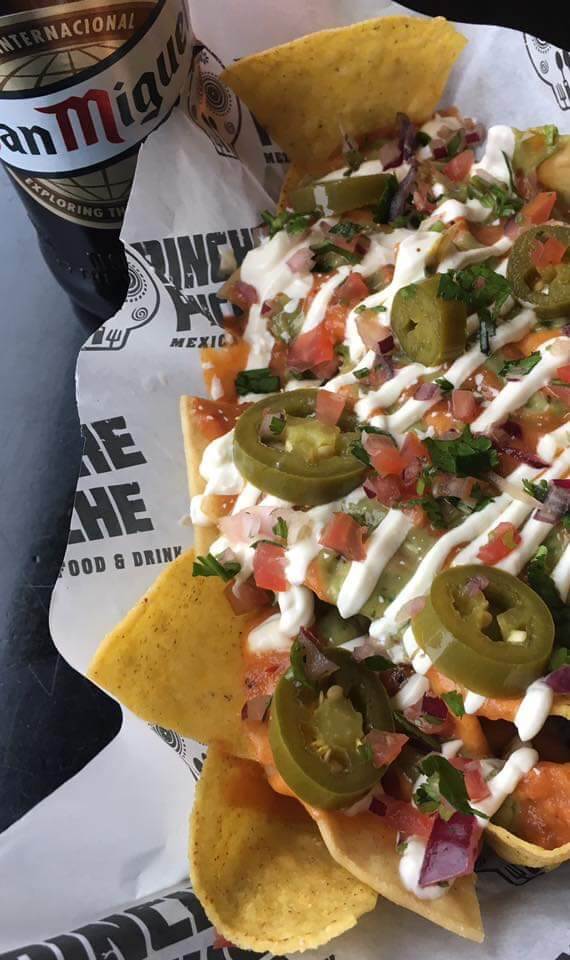 VEGAN NACHOS
Just put the following items together at home to enjoy your nachos. A great dish to share (gf)(v)(ve) 5
pot of creamy house vegan cheese sauce
pot of pico de gallo and jalapenos
pot of vegan crema
pot of fresh avocado salsa
A box of our handcut corn tortilla chips
Allergens: almonds, cashews
BLACK BEAN HUMMUS
Served with handcut corn tortilla chips (gf)(v)(ve) 4.95
Allergen: sesame seeds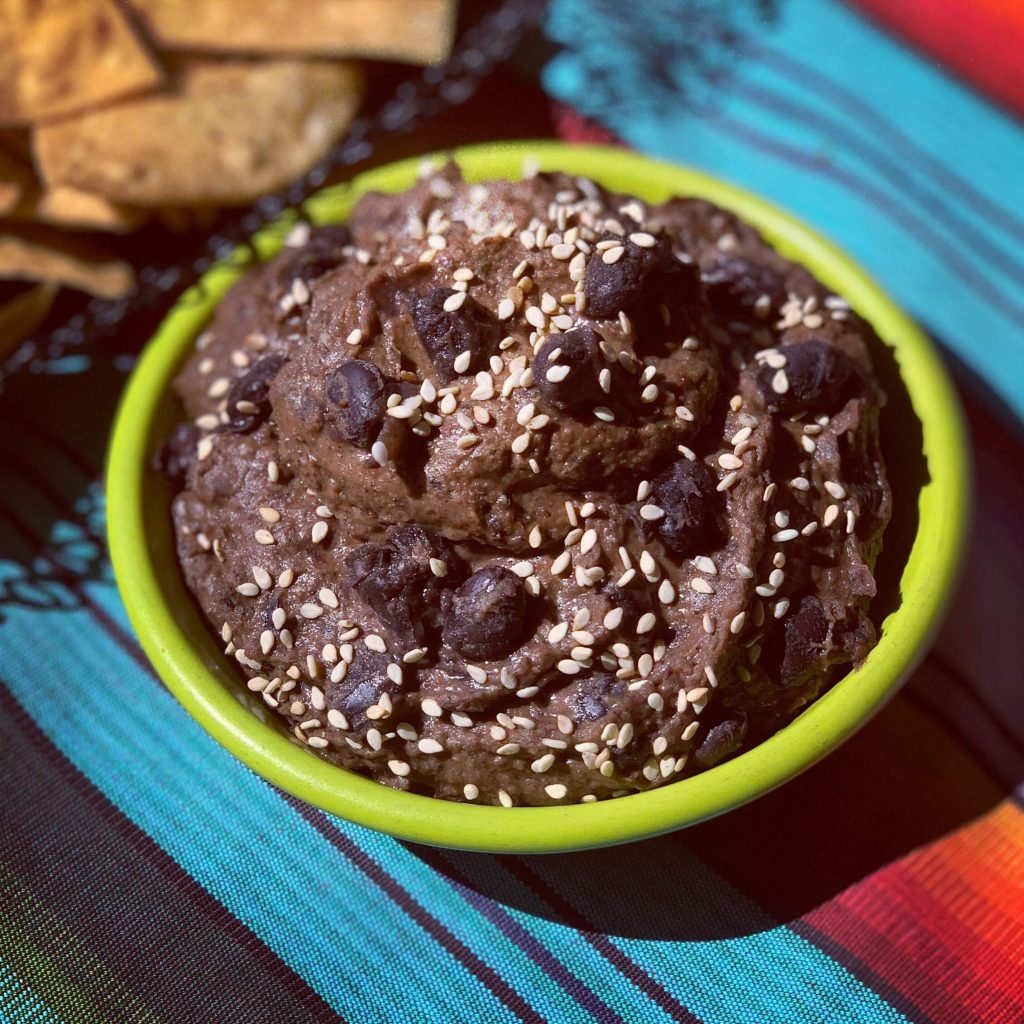 GUACAMOLE
Made to order with Hass avocados, pico de gallo, fresh lime juice and roasted pumpkin seeds. Served with our own handcut tortilla chips. A great dish to share (gf)(v)(ve) 6.95
Allergen: pumpkin seeds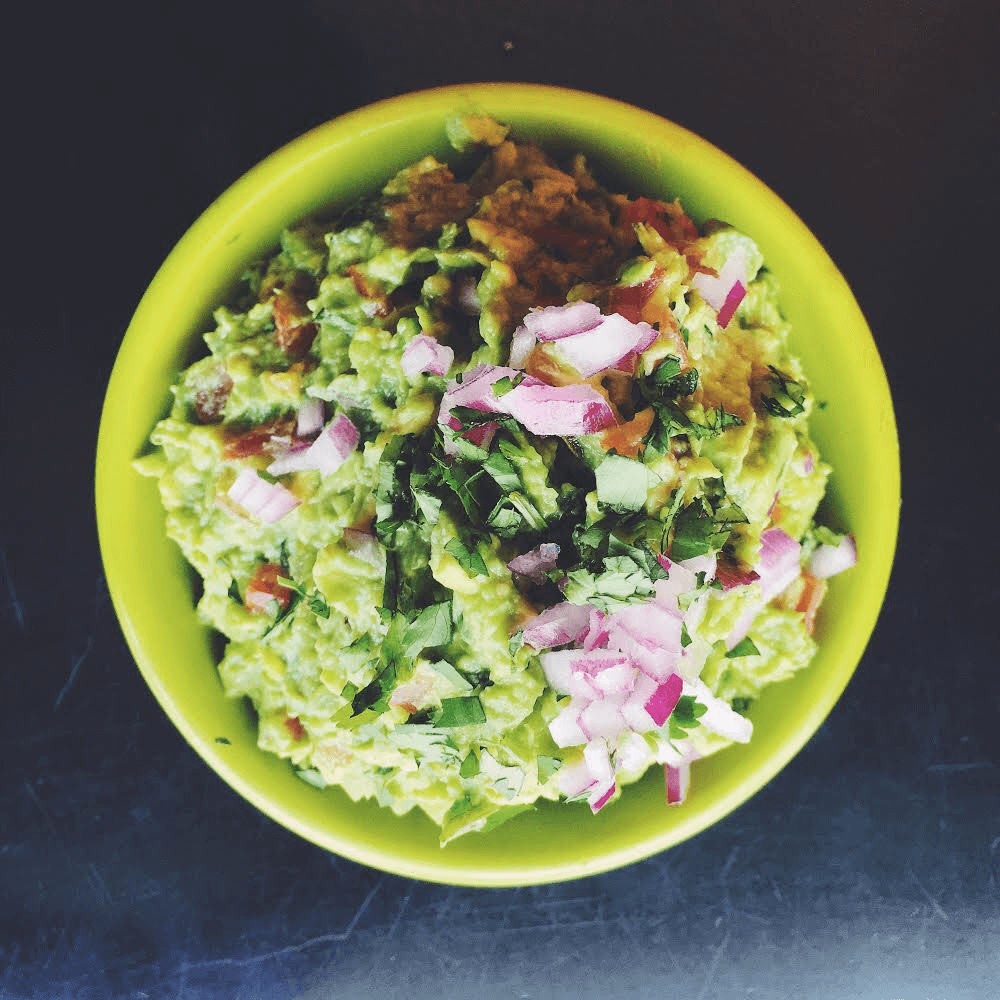 WINGS AND SALSA
Chicken wings with a spicy tamarind and Chipotle chile salsa (gf) 3.95
Allergens: sulphur dioxide, soya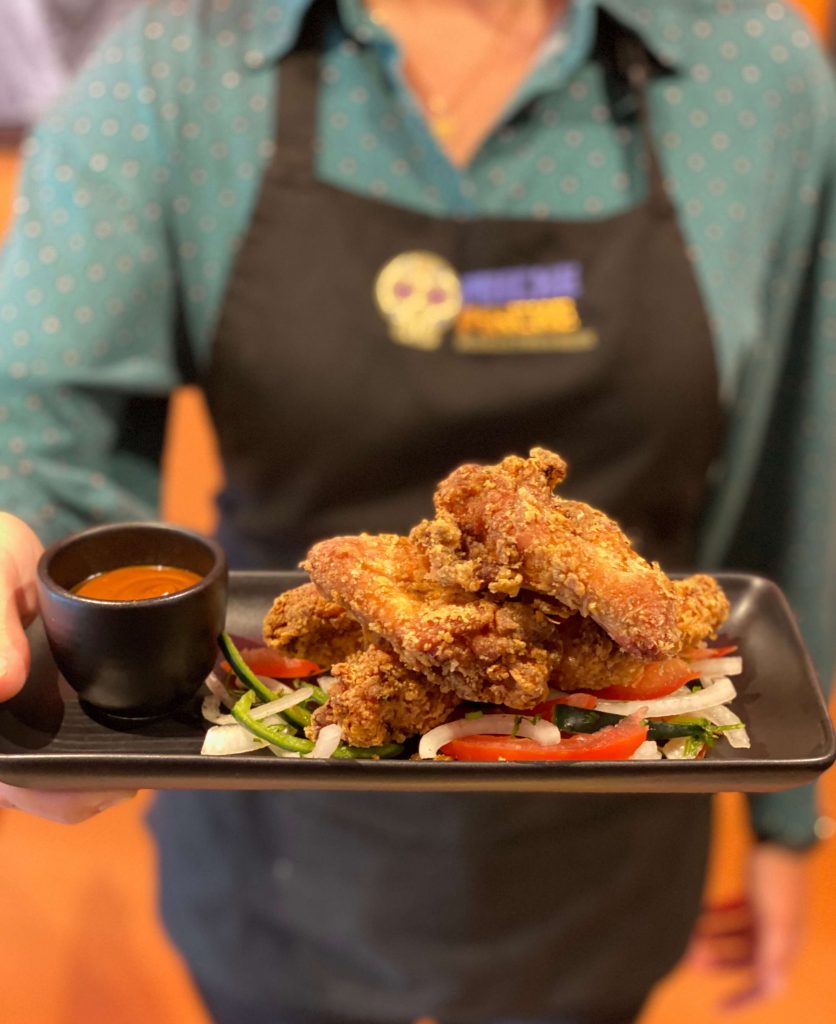 SERRANO HAM QUESADILLA
Folded and toasted corn tortilla filled with mature cheddar cheese and Serrano ham, with a serving of avocado salsa (gf) 5.95
Allergen: milk
HIBISCUS QUESADILLA
Folded and toasted corn tortilla filled with mature cheddar cheese and sauteed hibiscus flowers. Served with spicy salsa negra (gf)(v) Can be prepared for a vegan diet on request – please leave a note on your order. 5.95
Allergens: milk, soya
VEGAN CHORIZO AND POTATO QUESADILLA
Folded and toasted corn tortilla filled with vegan cheez, 'Tofurizo' and potato. Served with avocado salsa 5.95 (v)(ve)
Allergens: almonds, soya, gluten
MARINATED FREE RANGE CHICKEN BURRITO
Large flour tortilla rolled and filled with locally sourced, free range marinated chicken, Mexican rice, black beans, three cheeses, crema, Mexican slaw, rocket and salsa verde. 10.95
Allergens: gluten, milk, soya
MARINATED FREE RANGE CHICKEN RICE BOX
A box of locally sourced, free range marinated chicken, Mexican rice, black beans, three cheeses, crema, Mexican slaw, rocket and salsa verde (gf) 10.95
Allergens: milk, soya
FISH BURRITO
A large flour tortilla rolled and filled with grilled Seabass, baked potato skins, black beans, fennel slaw, avocado, cheese, Chipotle aioli, rocket and pico de gallo 11.95
Allergens: fish, gluten, eggs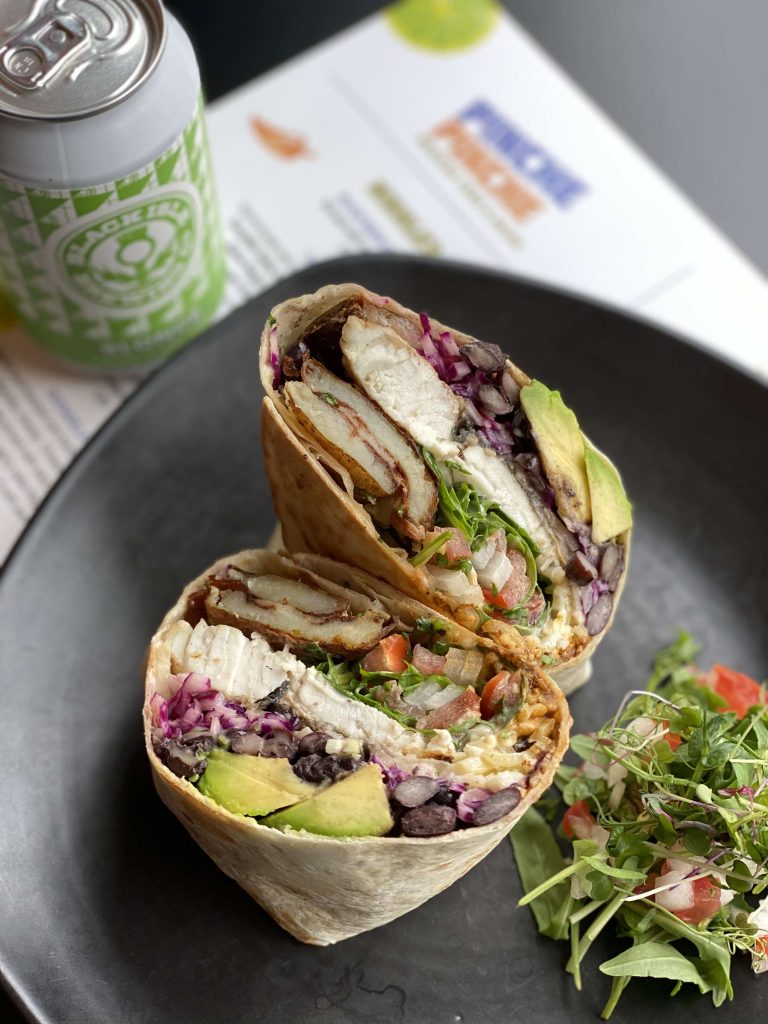 AL PASTOR PORK BURRITO
The most popular taco in Mexico City brought to you in a burrito! Red chile marinated free range pork with grilled pineapple, in a large flour tortilla rolled and filled Mexican rice, black beans, three cheeses, crema, Mexican slaw, rocket, salsa negra and avocado salsa 10.95
Allergens: gluten, milk, soya
AL PASTOR PORK RICE BOX
The most popular taco in Mexico City brought to you in a box! Red chile marinated free range pork with grilled pineapple, in a large flour tortilla rolled and filled Mexican rice, black beans, three cheeses, crema, Mexican slaw, rocket and salsa negra, avocado salsa (gf) 10.95
Allergens: milk, soya
BRISKET BURRITO
Large flour tortilla rolled and filled with locally sourced, grass fed, slow cooked brisket, Mexican rice, black beans, three cheeses, crema, Mexican slaw, rocket and salsa negra 10.95
Allergens: gluten, milk, soya
BRISKET BURRITO RICE BOX
Locally sourced, grass fed, slow cooked brisket, Mexican rice, black beans, three cheeses, crema, Mexican slaw, rocket and salsa negra (gf) 10.95
Allergens: milk, soya
CELERIAC AL PASTOR BURRITO
Roasted celeriac and pineapple in a red chile Al Pastor marinade. Served in a large flour tortilla with Mexican rice, black beans, vegan cheez, vegan crema, Mexican slaw, rocket, salsa negra and avocado salsa (v)(ve) 10.95
Allergens: gluten, cashews, almonds, celery
CELERIAC AL PASTOR RICE BOX
Roasted celeriac and pineapple in a red chile Al Pastor marinade with Mexican rice, black beans, vegan cheez, crema, Mexican pickle, rocket and salsa negra, avocado salsa (v)(ve) 10.95
Allergens: almonds, cashews, celery, soya
CAULIFLOWER & COURGETTE BURRITO
Roasted cauliflower, courgettes and fire roasted Poblano chile strips in a large flour tortilla with Mexican rice, black beans, salsa verde, rocket, Mexican slaw and cashew crema and avocado salsa (v)(ve). 10.95
Allergens: gluten, cashews, almonds
CAULIFLOWER & COURGETTE RICE BOX
Roasted cauliflower, courgettes and fire roasted Poblano chile strips in a large flour tortilla with Mexican rice, black beans, salsa verde, rocket, Mexican slaw and cashew crema and avocado salsa (gf)(v)(ve). 10.95
Allergen: cashews, almonds
CHILDREN'S MEALS
Corn tortilla quesadilla served with fries and salad. Choose one of the following quesadilla fillings. Serving size suitable for children up to the age of 9. 5
Chicken and cheese (gf)
Cheese (gf)(v) please leave a note if you would like vegan cheese
Cauliflower and Courgette with vegan cheese (gf)(v)(ve)
Allergens: chicken and cheese quesadilla contains soy
FENNEL COLESLAW
Red cabbage and red onion in a creamy sauce with a hint of fennel 3
Allergens: milk, eggs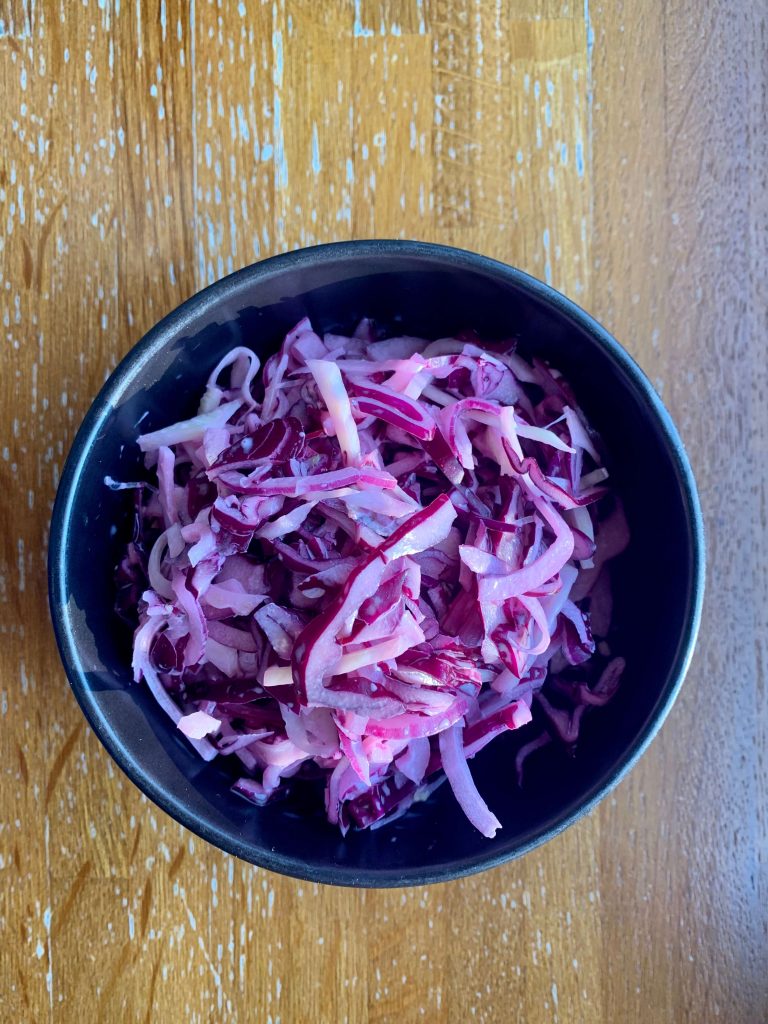 MICRO HERB SALAD
With radish, pea shoots, pink kale, broccoli, rocket, basil, nasturtiums and amaranth. Supplied by Growing Better, a Leeds based social enterprise supporting better mental health through employment, work experience and volunteering. Topped with pico de gallo and tortilla strips. 3.00
PLANTAIN
From the banana family. This side is deep fried with a sweet flavour. 2.50
HOMEMADE SALSA SELECTION
Made fresh, daily by us. Choose from:
Zingy green Tomatillo Salsa with a medium heat
Fiery Salsa Habanero made with Scotch Bonnet chiles
Hot and sweet Salsa Negra* made with Chipotle chiles
1.50 each or all 3 with a free bag of handcut tortilla chips for 4.50
*contains soya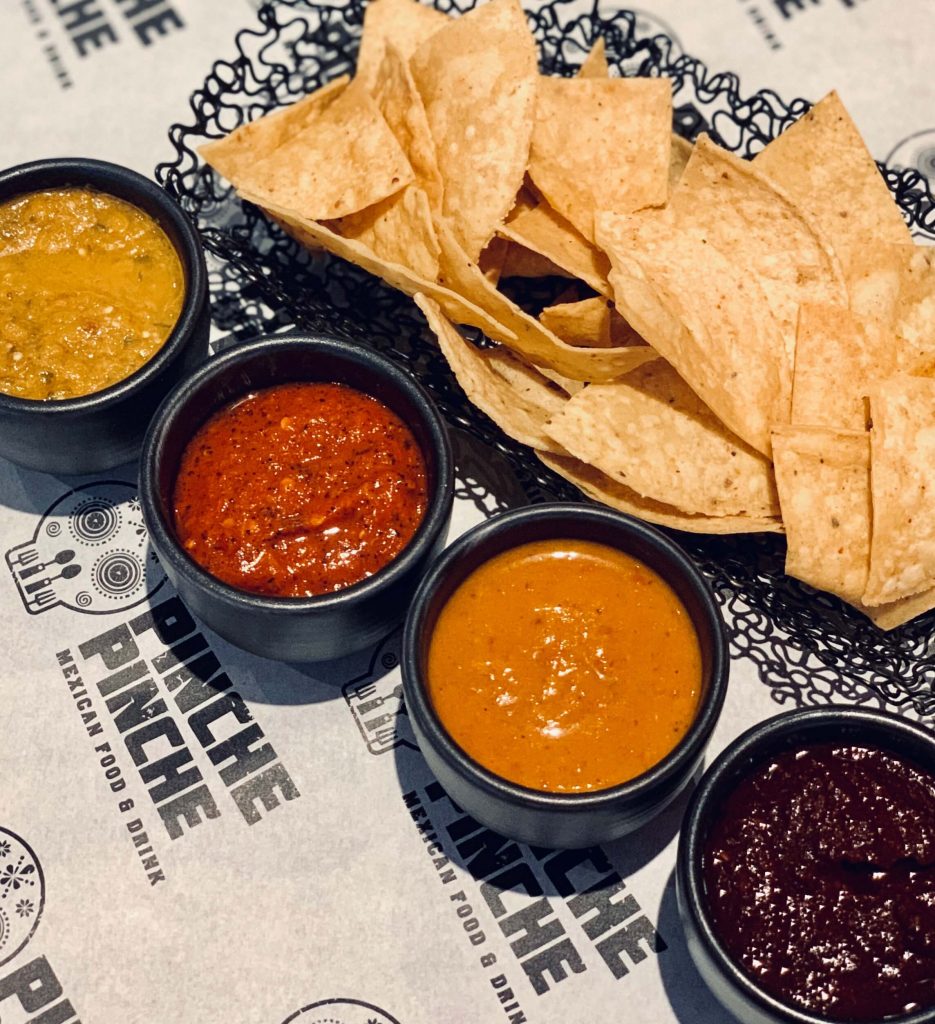 CHURROS
Sweet pastry dusted with cinnamon and sugar, and served with a dulce de leche dip. 4.95
Allergens: gluten, eggs, milk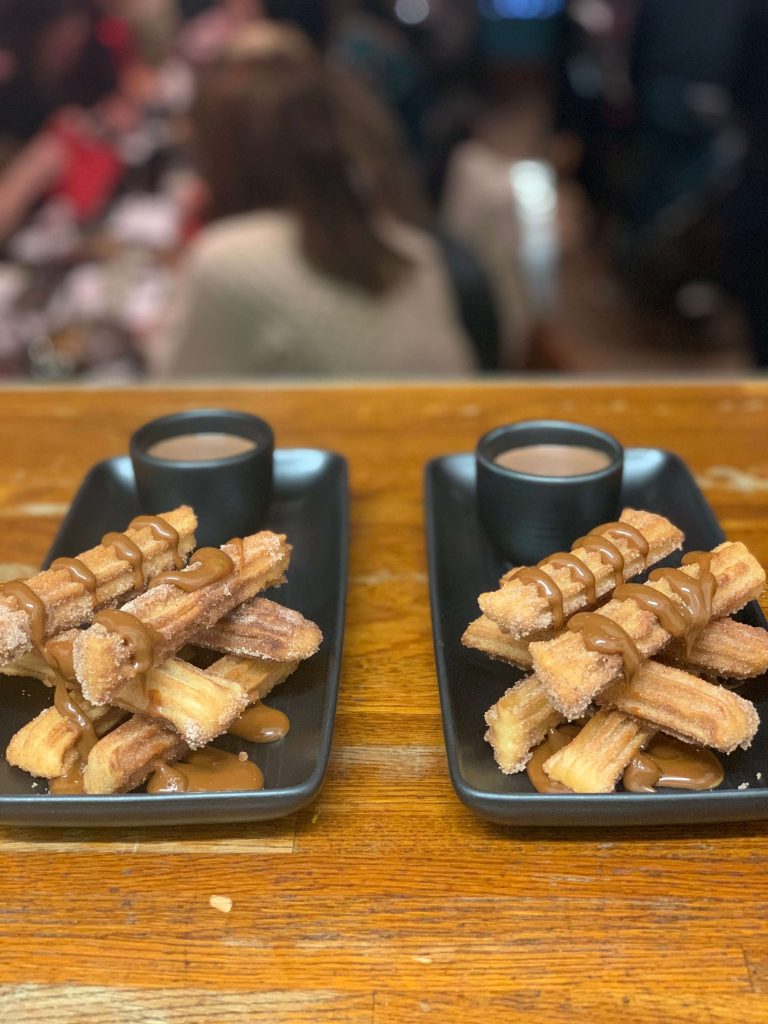 MARGARITA COCKTAIL
Made with El Jimador Reposado Tequila, fresh lime and agave syrup. Served on the rocks. 5.95 for 1/ 11.50 for 2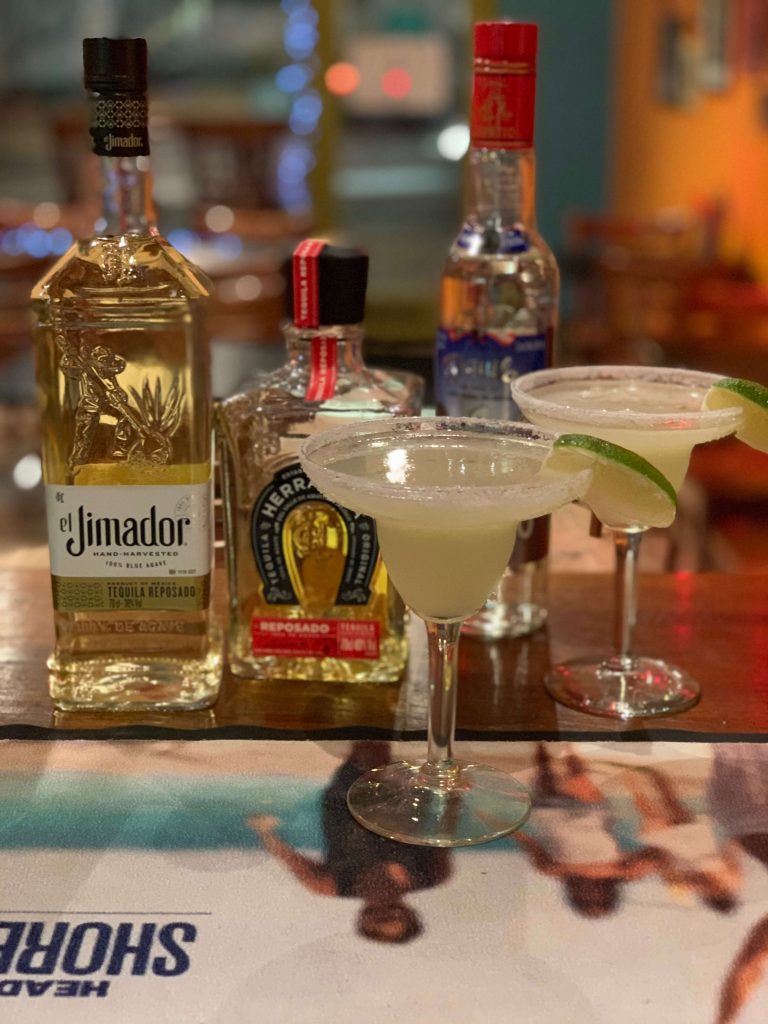 MALQUERIDA RED LAGER
Made by the El Bulli chefs as the perfect pairing for Latin food. 3.50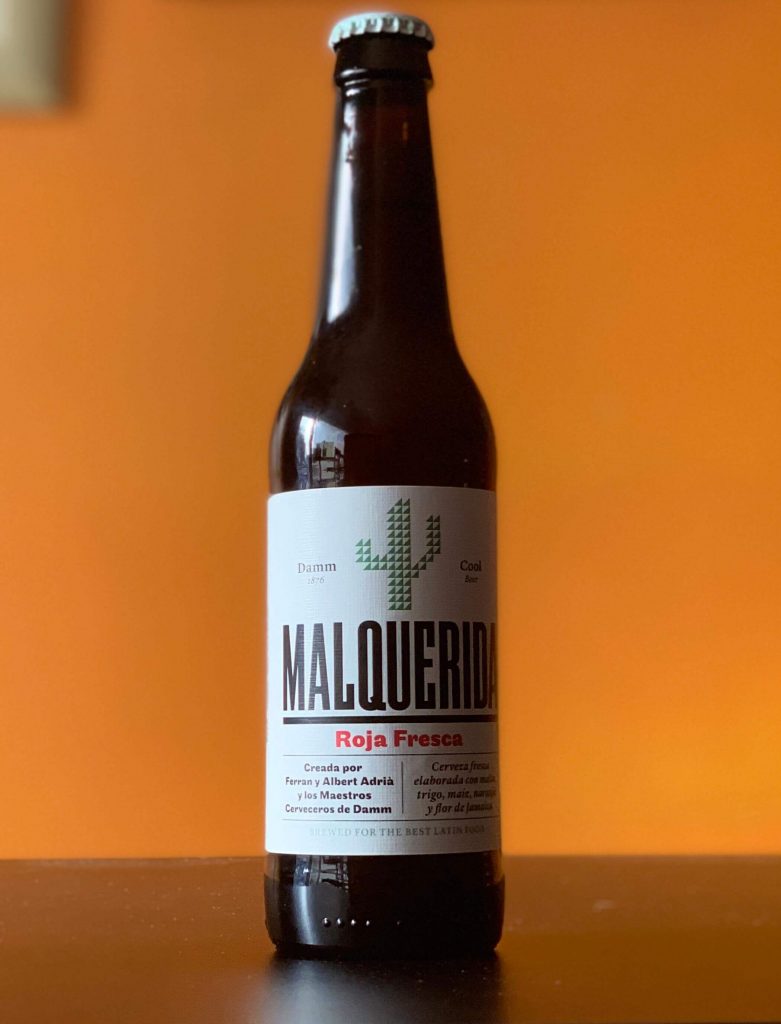 355ml 5%
BLACK ISLE BREWING BLONDE LAGER
Dry, crisp refreshing palate and biscuity finish. Natural, unfiltered and made with organically grown barley and hops 4
330ml 4.5%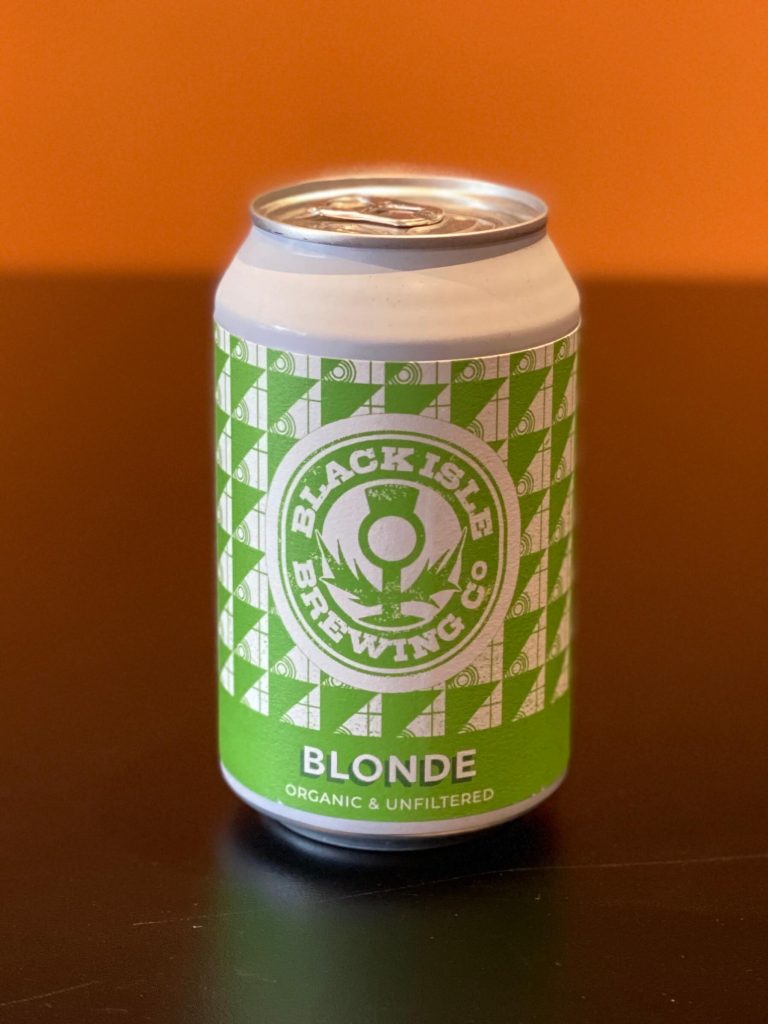 MAGIC ROCK FANTASMA
Light and tropically fruity with a slight bitterness. IPA (gf)(ve) 4
330ml 6.5%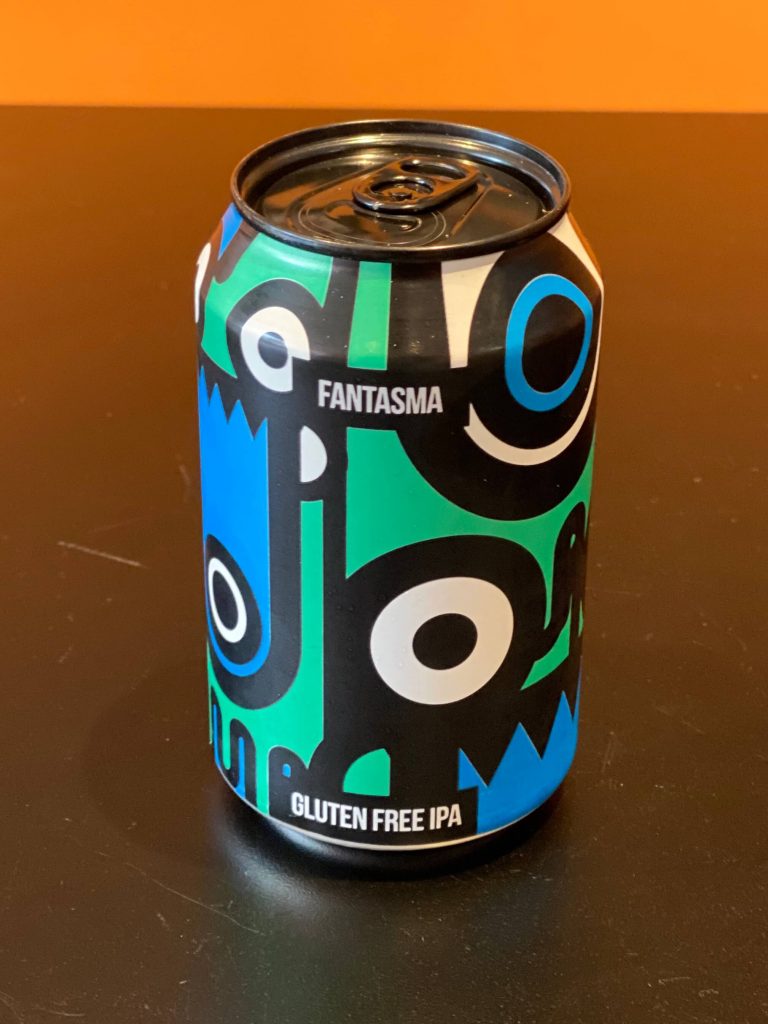 SCHOFFERHOFER GRAPEFRUIT
Refreshing, low alcohol beer. 3
500ml 2.5%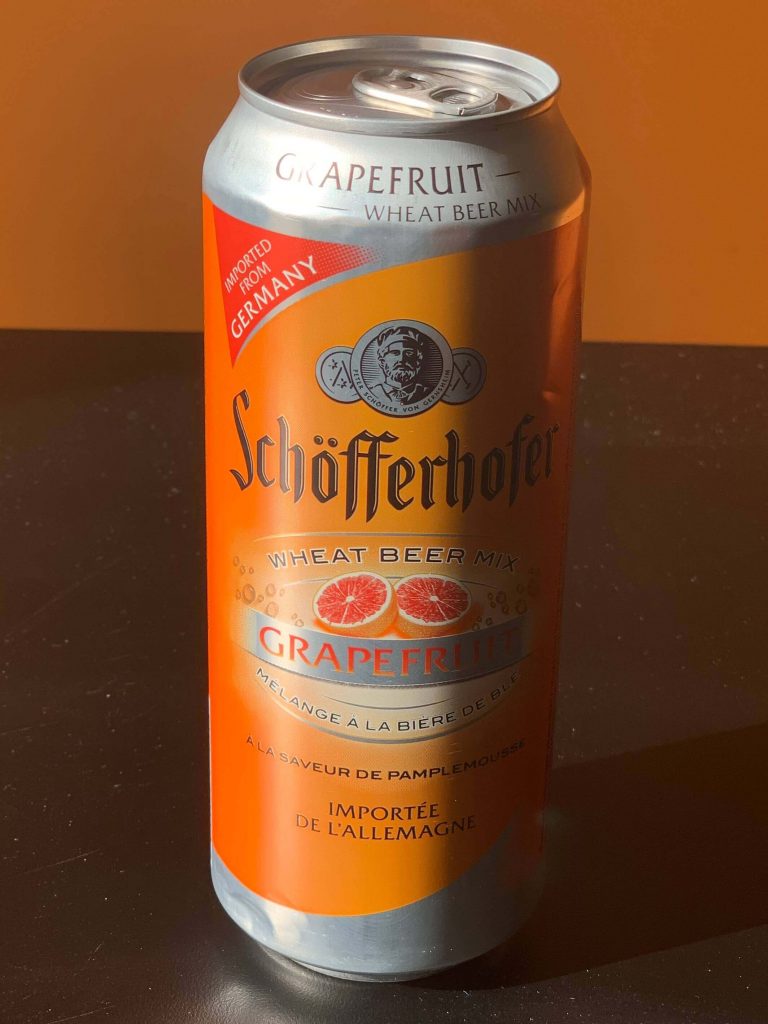 WILD BASIN HARD SELTZER
Boozy sparkling water and alcohol infused with natural fruit juice. A light and refreshing alternative to G&T. Only 100 calories and no added sugar. (gf) 1.95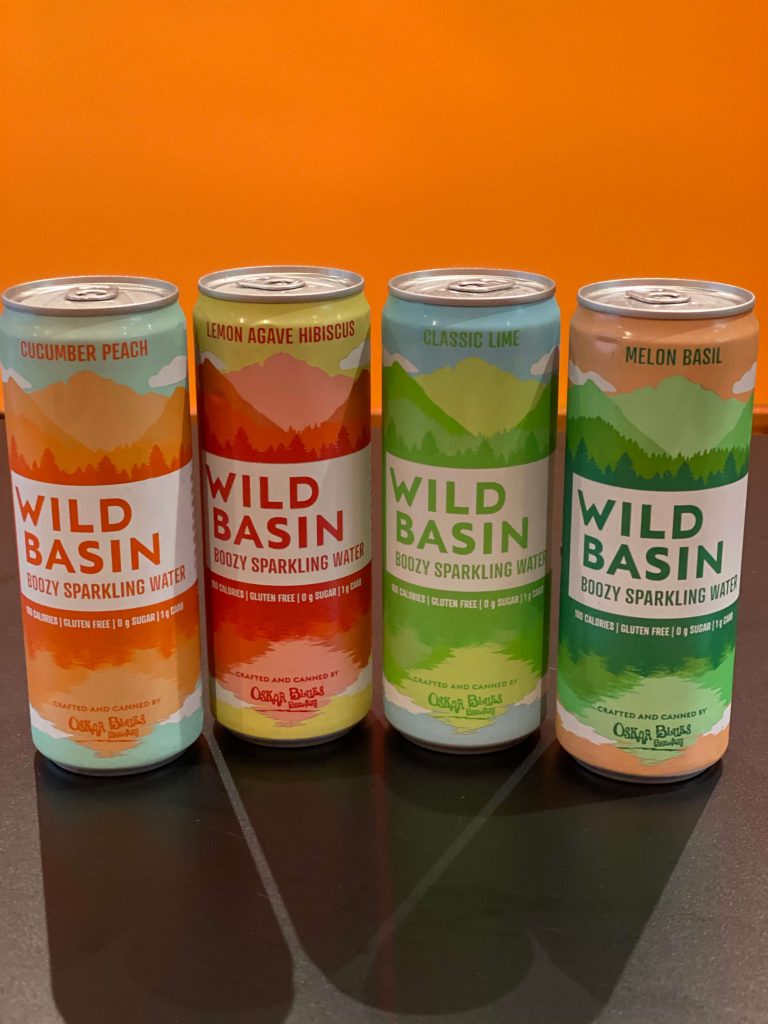 Classic Lime
Cucumber Peach (our favourite)
Lemon Agave Hibiscus
Melon Basil
355ml 5%
FRITZ SUGAR FREE KOLA
A feisty kola with 25mg of natural caffeine per 100ml and real cola nut extract. Sugar free with a fantastic taste 2.50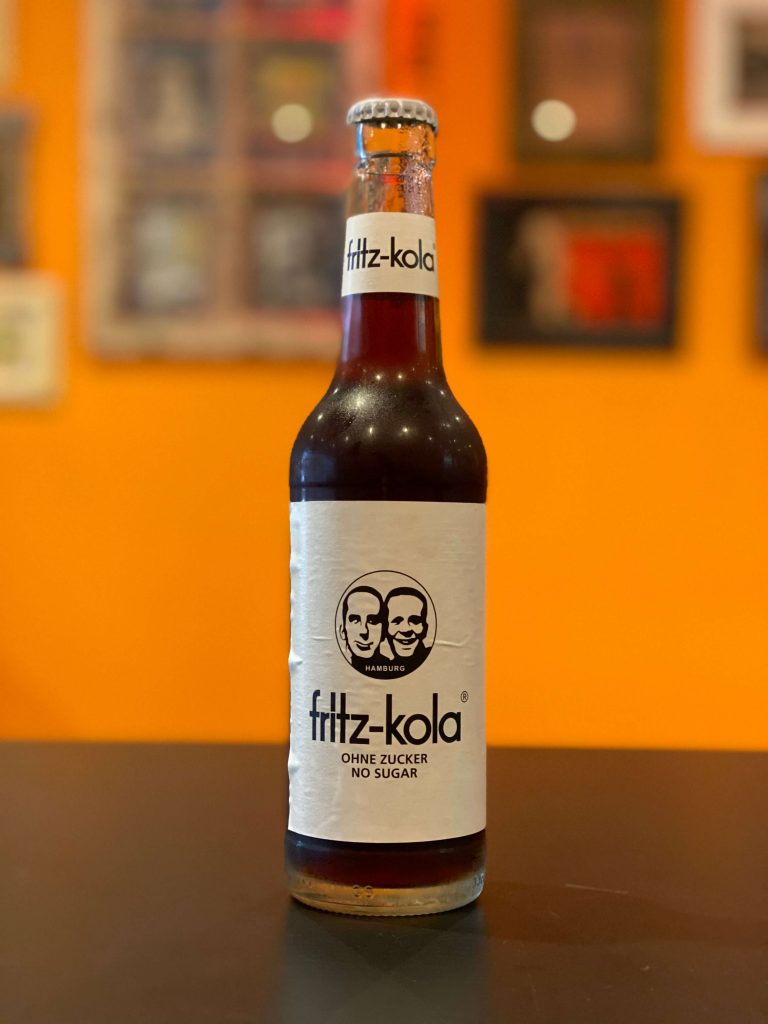 FRITZ LIMO LEMONADE
Great taste with high fruit content, no artificial colours and only natural flavours. 2.50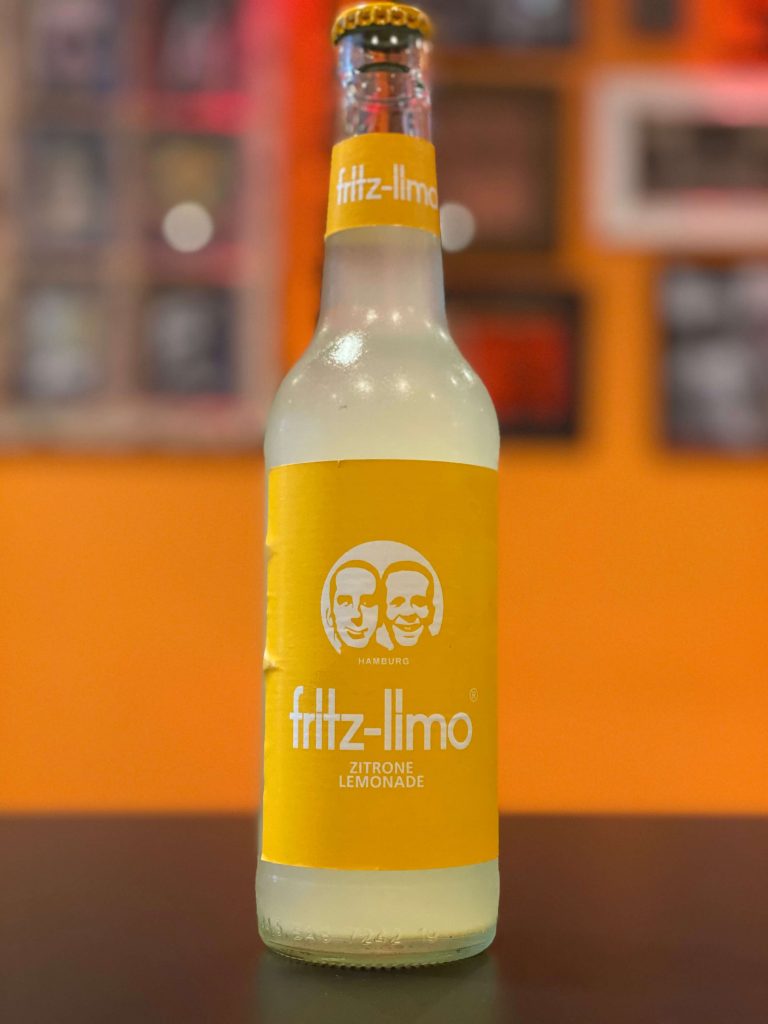 FRITZ ORANGE
A fruity orangeade with orange, mandarin and lemon. Great taste, high fruit content and only natural flavours 2.50