When was the last time you had a really good night out? Or had something to look forward to? That was the question a friend asked me just before lockdown 3 started. And this was how our latest Cocktail Kits were born. While we can't offer you a night out for now, we can help you and your friends have a fun night in, together.
Our kits include everything you need to make 4 delicious cocktails. And it's a special experience, from unwrapping the kit itself, in its colourful sleeve and reusable box, to discovering the spirits, liqueurs and juices inside, presented in cute little glass bottles with handwritten labels.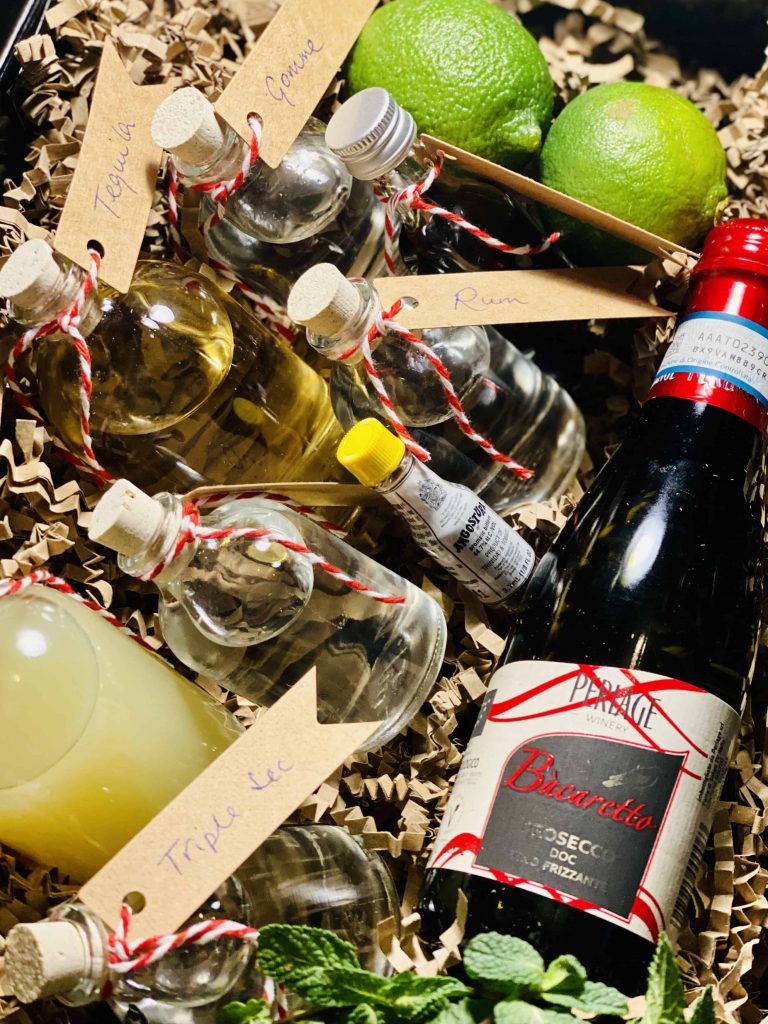 Cocktails within your bubble
The kits are perfect if you're lucky enough to be spending lockdown with a friend or partner at home. We'll email you a link to our easy video instructions, which you can watch as you please, between episodes of your favourite programme or maybe dinner courses…..
Zoom cocktails with friends
The cocktail kits also work really well for zoom parties. We can live host these parties for you, taking you through each cocktail. Alternatively, you can host your own party and screen share the video instructions throughout the party. The videos are short and simple leaving lots of time to party. We can also suggest easy ways to listen to music as a group, to boost the feeling of being connected to each other, wherever you might be.
Party nibbles
We can also offer party nibbles from the Pinche Pinche menu, such as salsa and tortilla chips, guacamole, nachos….
Which cocktails are included?
The standard cocktail kit includes ingredients for the following cocktails
Royal Mojito – a light and refreshing, Rum based Cuban cocktail, topped up with Prosecco.
Gin Swizzle – a type of cocktail from the Caribbean with the ever popular Gin as a base
Margarita – made with Tequila, the spirit of Mexico, and orange liqueur
Jalisco Espresso – a twist on the popular coffee laced Espresso Martini, using Tequila instead of Vodka
As part of the session, you'll learn some cocktail making techniques such as muddling, churning, salting a glass and the 'hard shake'.
All you will need to bring are just need a few utensils from your kitchen, and some crushed and cubed ice. Oh, and your party head, of course!
How to get a kit
Order your kits here.  For more information or to book a live hosted party, please call us on 0113 268 1110.